Maddox Metal Works, Inc. is a precision machining and snack-food equipment manufacturing company headquartered in Dallas, Texas. From our early days as a supplier to Frito Lay, Maddox continues to offer its technological and market advantages.

For snack food manufacturers, DairiConcepts offers unmatched technical expertise in clean-label ingredient flavor development for your brand and formulation, backed by industry leadership in organic, kosher and halal-certified manufacturing.

Commercial Creamery Company is a leading developer and manufacturer of specialty food ingredients, incl specialty dairy/cheese powders. Our expertise and ongoing research in spray-dried cheese powders and other specialty dairy powders are unmatched.
Browse by Section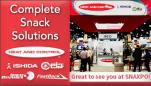 Published: 03/11/2016 by Amber Crowley
Heat and Control provides the most comprehensive single-source assistance for selecting the most appropriate individual or combination in...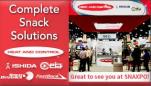 Published: 03/11/2016 by Amber Crowley
Snack manufacturers with high production outputs to pack and large orders to fulfil, are among the most efficiency-orientated of modern b...