Search results in category EXTRUDED PRODUCTS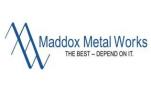 Maddox Metal Works Inc. is a precision machining, gear cutting and sheet metal fabrication company. We have a diverse customer base including food processing equipment, aerospace & defense oil field, steel mill equipment and other industries.


4116 Bronze Way Dallas, Texas, United States, 75237




Antiguo Camino Real de colima 1210
Col. San Agustin. C.P.
Mexico, 45645
phone: view phone011-52-36861771x232


498 Prairie Hill Road
South Beloit, Illinois, United States, 61080
phone: view phone815-624-6616
5743 Smithway St., Suite 103
Commerce, California, United States, 90040
phone: view phone3238385555

2600 Maxwell Way
Fairfield, California, United States, 94534-1915
phone: view phone310-328-8100

2-Suraj Estate, B/H Plot No. 3757, Phase-4
Gidc Vatva
Ahmedabad, Gujarat, India, 382445
phone: view phone919662036965


Quintana Roo 1501, Col.Guadalupana
Mexico, 44260
phone: view phone011-52-3-33-585-5555


1580 Grinnel Rd.
Kankakee, Illinois, United States, 60901
phone: view phone815-937-2633

Via E. Mattei, N2
25026
phone: view phone011-39-030-993-0507