Search results in category Pellets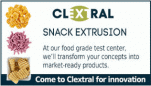 We design and supply complete lines which leverage the flexibility of twin screw technology to produce a wide range of extruded products for the food industry: breakfast cereals, snacks, food ingredients, protein fibration, and more.

Black Gold Potato Sales, Inc.

4575 32nd Avenue South, Suite 2-B
Grand Forks, North Dakota, United States, 58201
phone: view phone701-772-2620

2600 Maxwell Way
Fairfield, California, United States, 94534-1915
phone: view phone310-328-8100
E.K. Bare & Sons, Inc.

PO Box 409
Bird-In-Hand, Pennsylvania, United States, 17505
phone: view phone717-397-0351
Hurst Potato Sales, Inc.

PO Box 297
Waterford, Pennsylvania, United States, 16441
phone: view phone814-796-2633

1580 Grinnel Rd.
Kankakee, Illinois, United States, 60901
phone: view phone815-937-2633

Via E. Mattei, N2
25026
phone: view phone011-39-030-993-0507

50 West Ferris St.
East Brunswick, New Jersey, United States, 08816
phone: view phone516 922 5132

PO Box BP-20
France, 63720
phone: view phone011-33-4-736-34444

Alcalde Ramon Escayola, 66
Spain, 8197
phone: view phone011-34-93-590-2623