DALSORB launches new look and frying oil test kits at SNAXPO
Overview
Published: 02/18/2014
Photos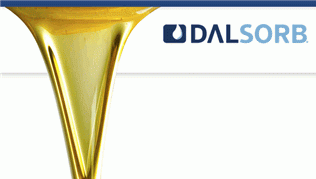 DALSORB® (a product of The Dallas Group of America) is well-known in the Snack Food industry as the global benchmark for frying oil purification. The Dallas technical service group leads the world in oil management experience with two of their chemists having ranked in the top two in the American Oil Chemist Society (AOCS) Proficiency Program for two years running.
"We offer our customers more than specialty adsorbents to clean their frying oil. We offer a fully integrated program that includes product, training, delivery, performance, and support. We wanted our brand to reflect our strength – optimizing the frying oil purification process," says Chris Abrams, general manager of the DALSORB product line.
During SNAXPO, The Dallas Group will unveil the new look of the DALSORB product line along with launching two new frying oil test kits. The test kits offer a simple and affordable way for DALSORB customers to quickly check the quality of their frying oil. Members of the Dallas technical service team will be on hand at SNAXPO (booth #1231) to demo the kit and answer any questions about the frying process.
To set an appointment to review your current frying oil management program contact Chris Abrams at cabrams@dallasgrp.com.
Get a sneak peek of the new DALSORB on their website: www.dalsorb.com.
About The Dallas Group of America:
The Dallas Group of America, Inc. and its predecessor company founded by Robert H. Dallas, Sr has been a global leader in the chemical industry for over fifty years and the unchallenged leader in adsorbent chemistry for the frying oil industry since 1980.
Its MAGNESOL®XL Frying Oil Saver is the premier product used by the restaurant industry for the treatment and filtration of oil in restaurant deep fryers. It's DALSORB® Oil Purifier is the premier product used by industrial frying operations for the treatment of frying and roasting oil. Dallas Group products save restaurants and industrial frying operations millions of dollars world-wide each year.
Press contact information:
Brian S. Cooke
Manager, Technical Services
The Dallas Group
1402 Fabricon Blvd
Jeffersonville, IN 47130
Phone: 812-283-6675 Ext.2229
Fax: 812-285-7560
Mobile: 502-396-0391