Snak King Corporation

Overview
We want you as a partner…not just a customer…every relationship is important to Snak King...and we will treat it that way... with a hands on…come on in…roll up the sleeves approach.
Contact Information
16150 East Stephens Street
City Of Industry, California, United States 91745-1718
phone: view phone626-363-7777
website: www.snakking.com
Additional Information
Photos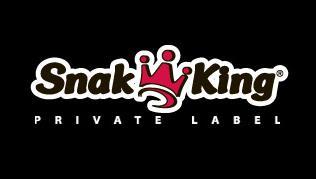 Description
Welcome to the Snak King Family! Snak King was started in 1978 for the sole purpose of producing private-label pork rinds for a local tavern distributor. Back then, just three employees, occupying 1,200 square feet of leased space, comprised our workforce. Today, the team has expanded to over 950 associates to serve you, occupying over 600,000 square feet and producing over 900

What makes Snak King the leader in Private Label Salty Snacks?

• Safety…Food safety assurance is our #1 priority. SQF Level 3 status is a testament to our commitment.
• Quality…We hold the highest standards in the industry when it comes to our people, state of the art machinery and raw materials.
• Consistency…We utilize a computerized quality management system to ensure product specs are met on a consistent basis throughout the production run.
• Innovation…Allows our partners to optimize brand positioning, assortment and be "first to market" with new snack food concepts.
• R&D…Our team has extensive industry knowledge and experience in order to meet or exceed your expectations.
• Capacity…Two strategically located manufacturing plants to efficiently serve your needs.
• Packaging…Full range of packaging options to meet your specific needs.